Customer Comments
-----Original Message-----
From: Alvin Biggs [mailto:al.biggs59@yahoo.com]
Sent: Saturday, November 19, 2011 5:43 AM
To: JimNasset@earthlink.net
Subject: SmartStock really works well for my 300 WSM!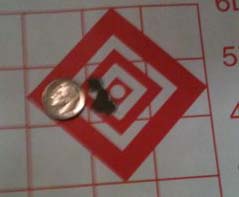 Thanks Alvin Biggs
Brownwood Tx.
From: Art Carlson [mailto:art@radiantfoil.com]
Sent: Saturday, September 24, 2011 8:46 AM
To: Jim Nasset
Subject: One more ... Way toooo Much Fun!
Good Morning Jim:
The Patient: Savage .17 HMR, the medicine: Hornaday 17 and 20 grain
This is just a fun thing to do, sand the tuner to conform to the barrel, head to the range, see 12 of your closer friends, say hello, set up, the group at 50 yds is about .5 MOA.... Move to 100 yds, about the same, 1st guess.. move tuner to the rear (started in the middle) 2 turns.. wrong.. move back 4 turns (toward the front) .. better.. back 1 turn, BINGO... 1 turn 3 rounds = 1 ragged hole. (technical note: pressure 5.5 pounds)
Four of the assembled group (skeptical) went down range, brought the target back... to show the group/hole.. Now I don't have a target.. Oh Well, the boys got excited!
Now the next stocks...
BTW: one of the guys from CA offered $1,500 for the gun...
DID I SAY "thank you" .....!
______________________
Art Carlson, Engineer
RadiantFoil.com

From: Robert Lessard
Sent: Saturday, September 19, 2009 4:05 PM
To: Info@rifle-accuracy.com
Subject: Picture of my Best Group

Hey Jim,

Just a quick note giving my results so far. "Out of the box" with the barrel tuner installed my gun shot about 3/8th inch groups. I spent about 3 weekends dialing things in and I've attached a picture of my last group today:

Ruger 204 @ 100yds, Hornady 40gr Vmax factory ammo, 75F, 5kts cross winds, 1/8th inch, 3 round group- one ragged hole :-)

Take care,
Rob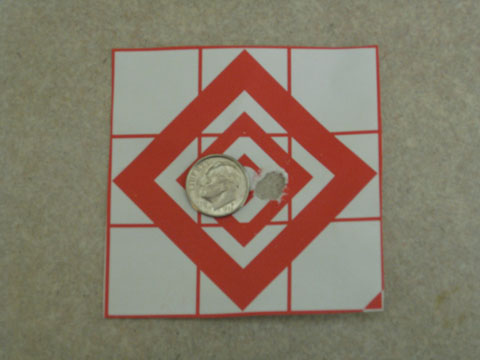 From: Tom Gingerich
Sent: Wednesday, July 16, 2008 1:47 PM
To: Info@rifle-accuracy.com
Subject: SmartStock Tuner

Jim, As we discussed when I first contacted you about the SmartStock, it seemed to make sense from the theory behind the product, but I am writing to let you know how pleased I am with the ease of installation and the actual performance of the SmartStock. The tuner seems to be very well made and the instructions were easy to follow as to the final fitting that was necessary. In fact, a little careful sanding was all that was needed. The important thing, however, is in the actual effect the tuner has at the range and this is where I was really impressed. I have attached a few targets from my first outing. The first four targets are the results of my first attempt at tuning the 165 gr Sierra HPBT. The second target is a four shot group I shot later in the day. As I mentioned over the phone, I am not a regular at the range so I have to give a lot of credit to your product. I have spent many hours working up loads for various guns and have rarely, if ever, had the results I had on the first time out with your tuner installed. Thanks again for a great product that actually works as advertised!

Tom Gingerich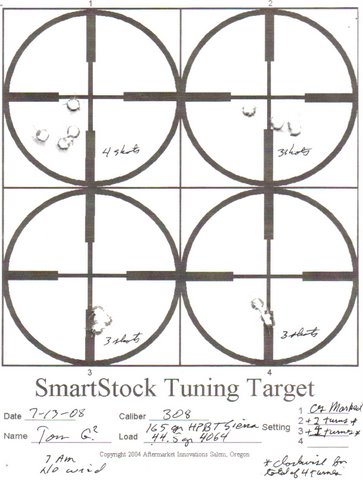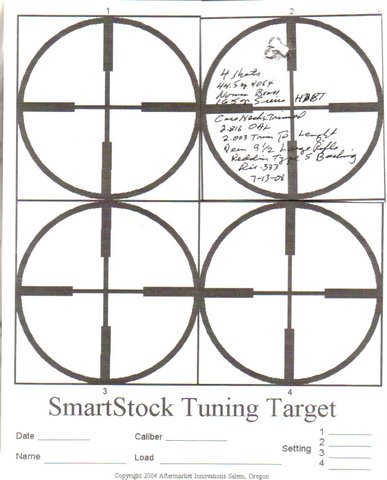 From: Sinclair International - BB
Sent: Friday, June 03, 2005 2:03 PM
To: Info@rifle-accuracy.com
Subject: How have you been!

Hi Jim,

I thought that I would check and see how you have been. It looks like you may have finally found a home for your accurizer with the folks at Bell & Carlson! Great!! I imagine that you have been smiling with the fact that the NBRSA is allowing the use of barrel tuners for the bench rest rifles. You should hear the guys in here, that shoot b/r! I have been listening to some of the b/r shooters wonder how they are going to set up a tuner when you already have one that will work the best for them. Goes to prove what you, and I, already know!
I will be getting ready soon to test a new cut rifle barrel from Steve Satern. I will be putting it on the action that I did our testing on when we had first carried the Accurizer hear at Sinclair. The rifle is being changed over to a switch barrel gun, and the first barrel is a Pac-Nor 25" SS, 12" twist in .243 Ackley. The second barrel is the Satern cut rifle barrel in SS, 6.5" twist and will be chambered for the .22 BR. This is being set up to shoot the upcoming Sierra .22 Cal. bullet that weighs 90 grains and is the newest Match King. I am looking to use this set up to shoot in F-Class out to 1,000 yards while using the Accurizer. This should prove to be very interesting to say the least!
I have a second rifle setting up for 1,000 yard plus varmint work. This one is building up on a Ruger 77V action that is going into a Bell & Carlson Deluxe Varmint Stock, which is no longer available from them. It is chambered in 6/284 with a Douglas 8" twist SS barrel that is 27" long. I bought the last Accurizer that we had and it is going into this rig! This rifle will have capabilities to also be used for F-Class if the wind starts howling to much for the .22 BR.
I have another 700 BDL setting up as a switch barrel. It is being set up with a .22-250 Ackley barrel, and a .220 Swift barrel. The stock has already been pillar bedded by Tom Meredith, at TM Stockworks, and I will want to use your tuner with it when it goes together. This is being set up to use in the local varmint rifle matches that are becoming so popular these days. Is it still possible for me to get the kit, like we sold from you, or would I need to send it in? Before I forget, can I still purchase the Delrin block as a service replacement part, like we had done with you in the past? If I need to send the stock in, can I get it set up with your original style adjustment with the hole drilled into the tip instead of using the unsightly knob setup that the pictures were showing on the HS Stock on the website?
As you can tell, I am still personally sold on your tuner. I hope that everything is finally working out for you. It should be interesting to see how long it will take the b/r shooters to "discover" your tuner. They will be kicking and screaming all the way to your door. I am going to be taking my HS Stock with me to a b/r match this Sunday. Several of the guys want to look at the setup in my stock to decide if they will want to get in touch with you for installation. In fact, Steve Satern, who is the gentleman I am testing the .22 Cal. barrel for, is very interested in your system to see if he might be interested to try it on his guns with the barrels he is starting to make. It should be interesting.
I hope to hear from you soon to hear how things are going for you.

Cordially,
Bob Blaine

Sir,

Just writing to tell you how well your product works. The best sweet spot I was able to find gave me 7/16" groups (.22-6mm Remington Improved, 28" bull-barrel, xp-100 action, built by Bullberry Barrel Works). I thought that was pretty good going from 1 3/8" groups to 7/16".

Then I decreased tension on the forward action screw and I could not believe the results. One ragged hole (consistently). I could not be happier.

Thanks a lot,

Keith Hedges

From: Lee Bowen
Sent: Tuesday, June 15, 2004 2:02 PM
To: Info@rifle-accuracy.com
Subject: Thompson Center

Sir,

I purchased a Accurizer from you about 4 years ago for my Ruger 77 30-06.
To tell you I am pleased with the result would be an extreme understatement.

Now I find my self looking into a new project, (because my oldest daughter
informed me, after killing her first deer,) with the Ruger "Either duplicate
this rifle or find you a new one." Since I remember that you have children
you understand why I have a new project.

Now to my question, are you familiar with Thompson Center Contender and/ or
Encore? The barrels have the forearm attached by two screws (pistol barrels
3 1/8 spacing, carbine 3 ˝ for the Contender). How far away from the last
attachment screw would I have to extend the fore arm to make the Accurizer
work properly?

Lee Bowen

Hi,

Just wanted to let you know that I have installed the Accurizer in my 338/416 Rigby and began testing the other day. Started in the center, as suggested and then moved 5 turns clockwise per group. I had about 8 rounds left when I noticed a 1-hole group (2 shots) and wound up firing the other 6 rounds at this same setting, resulting in one ragged hole!

So, would you suggest I keep moving the device or leave it where it is? (I only had 20 rounds loaded with me, so didn't even get to the forward-most position yet).

I guess I was skeptical at first, but now I believe the Accurizer works as advertised.

Rudy Reichelt

Because it is a hunting rifle, and a big boomer at that, I didn't do a lot of range time. But before the device was installed the gun shot 1 1/4" groups and that was with a throttled down load because the rifle just wouldn't shoot powerhouse loads accurately. After the device was installed I could shoot just about any load I wanted and tune the gun to the load rather than tuning the load to the gun. Now it shoots Max recommended loads into 3/4" all day long.

Very satisfied!

Jim Irwin

Jim, I don't know if you remember me. When you first came out with your product I was experimenting with a similar barrel tuning device and I called you and we talked. You sent me one of the first units you had and I installed it in a Model 70 Winchester Stainless Synthetic in 338 Win Mag.

Although the forend of the Winchester needed to be stiffened with some carbon fiber after I installed your devise the results were amazing. I'm sure if I installed it in a target type gun I would get the same results,but I just like to experiment with stuff.

Roy Bertalotto