Ruger 10-22 Rifle Stocks

---
*All stocks are for bull barrels only. Prices shown are for -02 black finish. Note: Stocks do not fit the 10-22 VLEH Action.


Click above to order rifle stocks
Note: Out of Country Customers click here before ordering.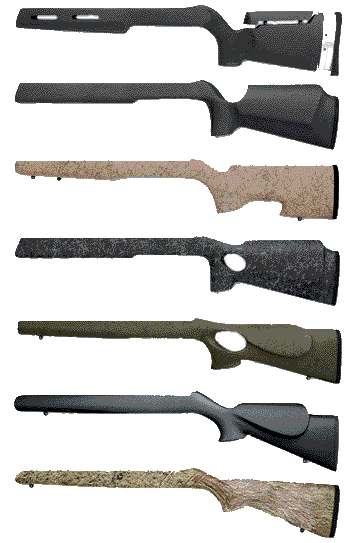 Odyssey Style- The Odyssey features a fully adjustable cheek piece and length of pull. The front to rear downward tapered forend allows for minute elevation adjustment by simply sliding the rifle. The vented forend has a rail for attachments. Fine and distinct checkering. For right-hand or left-hand shooters.
Two Way Butt $307.95 Stk # 2033
Three Way Butt $379.95 Stk # 2032
Anschutz- (Sportsmen Team Challenge/Silhouette) Style This stock can be used for any purpose, but has been specifically designed for use in Team Challenge competition. For scope use only. Stk # AO32
$205.95
Target/Varmint stock - Bell and Carlson is pleased to announce that we have added a new "target" style stock for the Ruger 10/22 (.22LR). The stock is designed as a "drop-in" for the heavy barrel (.920" barrel). It is a full-size stock that has an extended grip and a fairly wide forend with dual front sling studs to allow for both bipod and sling attachment. This stock has the "thumb hook" to provide for additional stability when shooting off shooting bags or a rest and has a slightly tapered forend to allow for quick and easy elevation adjustments. This stock is ideal for varmint or target applications! The stock has no checkering and comes with a standard length of pull of 13 3/4" and is available in all the finishes that we currently offer, including our web and camouflage patterns. Stk # AJ32
$205.95
Anschutz Style Thumbhole- The great features of an Anschutz style stock are combined with the feel and control of thumbhole. This palm swell grip will fit your hand like a glove. Stk # AT32
$205.95
Sporter Thumbhole Style- An innovative stock design to provide a free floating receiver with dual pressure points to eliminate action and barrel bind. The thumb hole grip and Monte Carlo cheek piece is for right hand shooters. - Suitable for scope use only. Stk # TO32
$205.95
Heritage Style- A stock design featuring distinctive styling with a Monte Carlo roll over cheek piece and the accuracy and durability of all our fiberglass, aramid and graphite stocks. Suitable for scope use only - Stk # PO32
$163.95
Classic Style- For right and left hand shooters, this fiberglass stock features a classic design without a cheek piece. As with all models, this stock is a true drop-in and installs in minutes. (camo finish extra) Stk # 4032
$156.95